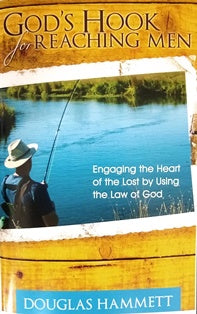 God's Hook for Reaching Men
---
by Pastor Douglas Hammett
Table of Contents:
The Purpose of the Law
The Lawful Use of the Law
Behold the Master's Way
Have You Taken Away the Key of Knowledge?
Witnessing with the Law
From the back cover:
God's hook is not the invention of men. Rather, if it God's tool to bring men to the realization of their need for Jesus Christ. If we were to attempt to fish by dangling the bait in the water, we would be very disappointed with the results. If, however, we use a hook appropriate for the fish we are attempting to catch, we would see a dramatic improvement in our results.
The law is God's hook to reach a lost and fallen people. Use it and you will see the wisdom of God. In this book we will take a look at the purpose of the law and the lawful use of the law. We will look at how Jesus used the law when He was alive on the earth. Finally, we will look at how to use the law in witnessing.
Paperback; 61 pages
ISBN 9780866452298
SKU:
---
Share this Product
---
More from this collection