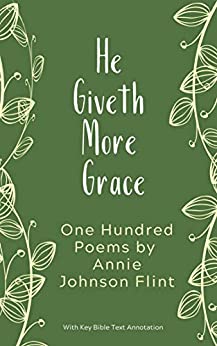 He Giveth More Grace (Annie Johnson Flint Collection - Book 1)
---
One Hundred Poems by Annie Johnson Flint
Annie Johnson Flint was born in New Jersey, USA on Christmas Eve in 1866. Crippled with arthritis throughout her life, hers was a difficult journey to glory - but, perhaps similar to Fanny Crosby, she did not let her physical limitations prevent her from leaving us with the incredible legacy of her writing.
Her poetry has been an inspiration to so many over the decades, particularly those passing through difficult times of illness or pain, including the pain of bereavement. In 2016, Bible teacher Ravi Zacharias quoted her poem 'He Giveth More Grace' in a sermon, describing Annie as 'one of the greatest hymn writers'.
This collection of one hundred of er poems, the first of three volumes, reflects an unwavering faith in her God and His promises, a belief that He was always with her and supporting her, and that He had a plan for her life. Her unwavering reliance on God's grace to cope with trials on a daily basis is also very evident, as is her deep love for her Saviour, Jesus Christ, and an appreciation of God's creation.
The book also contains an abridged biography, the full version of which is contained in 'The Making of the Beautiful'.
God Hath Not Promised - Book 2
SKU:
---
Share this Product
---
More from this collection