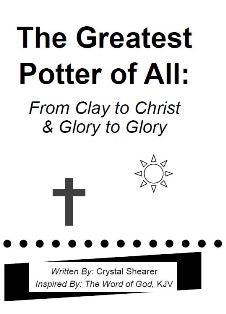 The Greatest Potter of All
---
Thank you for your support and interest in this poem, all proceeds will benefit the upcoming missions trip to Buenos Aires, Argentina (Oct. 2018).
Throughout the Bible, God has been illuminating His truths through the metaphor of clay with the sanctification process that begins immediately preceding true salvation in Jesus Christ. Through His Word and the recent trials in my life, I was inspired to write this poem.
Just as I have been blessed by your support, I hope that you have been encouraged in your personal walk with the Lord, allowing Him to continue to shape you for His honor and glory.
Sincerely, your sister in Christ,
Crystal Shearer
SKU:
---
Share this Product
---
More from this collection