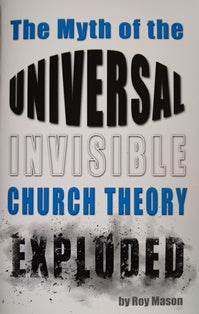 The Myth of the Universal, Invisible Church Theory Exploded
---
By Roy Mason
One of the most widespread theories of today is the universal, invisible church theory. This theory teaches that all believers belong to this invisible church and they were made a part of it through Holy Spirit baptism. The author of this book shows the fallacy of such a theory. He discusses all passages used to support a universal church theory, refutes them, and uses those same passages of Scripture to show how the Bible teaches a local church.
Contents:
1. A Theory Without a Leg to Stand On
2. Why and When the Theory Started
3. What's Wrong with this Theory?
4. Some Controverted Passages
5. Falsifies the Date of the Church's Beginning
6. Wrong on How the Church is Constituted
7. Some Additional Indictments
8. Usurps the Family and Kingdom of God
9. Which Local Church is the True Church?
10. The True New Testament Church Identified
11. The Linked-Chain Bugaboo
12. Who Will the Bride Be?
Paperback; 76 pages
ISBN 0866451021
Also available on Kindle - The Myth of the Universal, Invisible Church Exploded
SKU:
---
Share this Product
---
More from this collection